---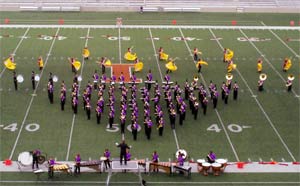 My original compositions have a fresh, contemporary sound while still being memorable and melodic. I make sure the music moves at an appropriate pace while allowing a variety of textures and colors to come through. I am pleased to say that my original shows have been performed at state and circuit finals alike. One of the main advantages of performing an original composition is that you will not have to deal with securing copyright clearance. Wanting to have a section of the show with only brass so your woodwinds can move to flag? Would you like a portion of the show to only have woodwinds and mallets so the brass can be part of an involved visual presentation? Whether you have an outstanding section that should be featured often or are looking for creative and appropriate ways to mask a weaker section, all of these things can be accomplished when you commission an original show. We will work together with your concept and design parameters to create a show that truly fits YOUR ensemble. Please note that commissioning original shows often takes more time and effort than arranging. Because of this, please get in touch with me by March to insure timely delivery to you and the rest of your staff.
I write all my music with Finale and utilize the Garritan Personal Orchestra, Virtual Drumline, and Virtual Ensemble Trilogy sound fonts for the MP3s. All scores and parts are delivered as Adobe PDF files. Should you also decide to have me write your drill, I provide online videos of the drill synced with the music for your students and staff to watch and listen to fully animated drill. This allows your students to be able to see the "big picture" ahead of time allowing them to have a better understanding of their responsibilities when they hit the field. I am a member of the American Society of Composers, Authors, and Publishers (ASCAP) and publish all of my original works through my publishing company TMP.
Interested in learning more about the creative process behind these pieces as well as life on the road judging and performing? Please visit my blog for all this and more!
Scroll down for examples of my work.
Interested in talking about original music for your program? Great! Contact me by phone or click here to get pricing information.
Keep scrolling for samples of my work.